Regular price
**** LUCK RISO PRINT
---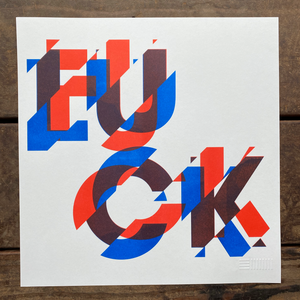 Regular price
**** LUCK RISO PRINT
---
FUCK LUCK RISO PRINT
FUCK LUCK, it's all about the hustle! Some things are totally out of your control but your successes are all you. Decisions you make, the things you do, it's not always about luck... You got this!!
#foursandeights #fuckluck #riso #risograph #type #swearymindfulness #hustle #notalwaysaboutluck #longgames
297 x 297 mm
Two colour
Blind embossed
Stock: 220gsm Cartridge
Risograph printed
Please note: The nature of Risograph printing means all prints may vary slightly in quality and colour. Also occasional track marks are unavoidable.